Design Concepts, Inc.
Product Design and Innovation Consultancy
Madison, WI
San Francisco, CA
In the late '60s, Design Concepts began as a small engineering design shop. More than 400 clients and 2,500 projects later, we have evolved into a full-service product design and strategic innovation consultancy. We are here to design cool stuff that drives business success and makes life better.
199?–2000
Original logo: designed by Larry Fenske

Based on "5 pillars of design."
2000–2014
Revamped logo ca. 2000: designed by Diane Foug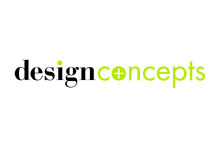 Used Bauer Bodoni and Function typefaces; "O" in "Concepts" was replaced by a Philips screwhead, later nicknamed the "proton."
2014–present
Refreshed logo ca. 2014: designed by Elizabeth Cavanaugh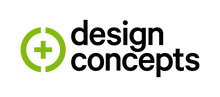 The Proton Story
The Proton is derived from our legacy logomark. The broken outer circle represents an expansion of what we know and who we are as designers. Due to the graphic language of the Proton, it's possible to be reminded of particle physics, wherein the path of an electron, or orbital, surrounds an inner positive charge.
The Proton has a vertical symmetry that lends itself toward a binary framework, for instance, the way each designer combines left- and rightbrained thinking to build on ideas. Two equally important halves of our process are reached through Envision and Realize. Shifting between these alternate views gives strength to Design Concepts' approach.