1913–2011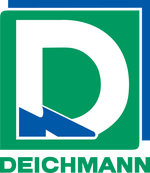 2011–
On February 1, 2011, Deichmann launched a revitalised logo internationally. It should be rolled out worldwide by the end of the year. Essentially, the blue shoe and the blue rectangle behind the green rectangle were both removed, and the remaining D was given a smoother appearance. The new look was created by KW43 in Düsseldorf.
Ad blocker interference detected!
Wikia is a free-to-use site that makes money from advertising. We have a modified experience for viewers using ad blockers

Wikia is not accessible if you've made further modifications. Remove the custom ad blocker rule(s) and the page will load as expected.