2005-2009
Das Vierte (meaning "The Fourth" in German) was launched on September 29, 2005. Its slogan was "Wir sind Hollywood" ("We are Hollywood").
2009-2013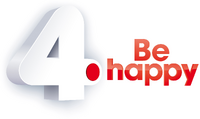 A new logo and a new tagline for Das Vierte was launched on September 19, 2009. The tagline became "Be Happy".
The Walt Disney Company shut down the channel on 31 December 2013. On January 17, 2014, the channel was relaunched as Disney Channel (Germany).
External links