19??-1990
Up until 1990, the name was spelled with a J instead of an I in the Nordic countries.
19??-1995
This article or section lacks a former logo at the moment. You can help Logopedia by uploading it here.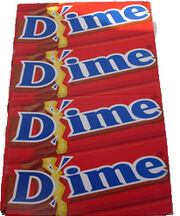 1995-1998
Daim was made over in 1995. The packages, which until then had been mostly brown, would now feature the stronger red colour, the brown colour now being less prominent.
1998-2005
The packaging was redesigned once again in 1998, with the D seamingly being cracked off the rest of the word to reveal the hard interior.
2005-present
Daim got a more explosive design in the Spring of 2005. It was created by Landor Associates in London.
Ad blocker interference detected!
Wikia is a free-to-use site that makes money from advertising. We have a modified experience for viewers using ad blockers

Wikia is not accessible if you've made further modifications. Remove the custom ad blocker rule(s) and the page will load as expected.