1995-2000
2000-present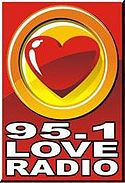 SUBSIDARIES
Pacific Broadcasting Systems | Cebu Broadcating Company
---
FM STATIONS

Love Radio Network
1 Luzon
90.7 Love Radio Manila | 95.1 Love Radio Baguio | 90.7 Love Radio Laoag | 101.7 Love Radio La Union | 98.3 Love Radio Dagupan | 94.1 Love Radio Tuguegarao | 94.5 Love Radio Isabela | 97.7 Love Radio Tarlac | 100.7 Love Radio Lucena | 98.3 Love Radio Puerto Princesa | 95.3 Love Radio Daet | 99.1 Love Radio Naga | 99.5 Love Radio Legazpi
Visayas
91.5 Love Radio Boracay | 100.1 Love Radio Kalibo | 105.7 Love Radio Roxas3 | 97.5 Love Radio Iloilo13 | 91.9 Love Radio Bacolod | 97.9 Love Radio Cebu | 101.1 Love Radio Dumaguete | 106.5 Love Radio Catbalogan | 98.5 Love Radio Catarman | 91.1 Love Radio Tacloban
Mindanao
97.9 Love Radio Zamboanga2 | 106.3 Love Radio Malaybalay | 107.1 Love Radio Iligan14 | 90.7 Love Radio Davao | K101 Love Radio General Santos | E100.1 Love Radio Koronadal | 95.1 Love Radio Butuan | 102.7 Love Radio Cotabato
---
YES! The Best 1
Luzon
101.1 YES! The Best Manila | 106.3 YES! The Best Dagupan | 89.7 YES! The Best Cauayan | 104.1 YES! The Best Urdaneta
Visayas
91.1 YES! The Best Boracay | 91.5 YES! The Best Cebu | 106.3 YES! The Best Dumaguete
Mindanao
94.3 YES! The Best General Santos2 | 104.7 YES! The Best Cagayan De Oro4 | 102.7 YES! The Best Zamboanga
---
Easy Rock
Luzon
96.3 Easy Rock Manila | 91.9 Easy Rock Baguio
Visayas
93.5 Easy Rock Boracay | 92.3 Easy Rock Iloilo | 105.5 Easy Rock Bacolod | 102.7 Easy Rock Cebu
Mindanao
94.7 Easy Rock Zamboanga | 93.3 Easy Rock Ozamiz | 96.9 Easy Rock Cagayan De Oro | 105.1 Easy Rock Davao | 104.7 Easy Rock General Santos
---
Radyo Natin7
Luzon
Radyo Natin Bontoc | Radyo Natin Buguias | Radyo Natin Tabuk City | Radyo Natin Candon | Radyo Natin Agoo | Radyo Natin Baler | Radyo Natin Alaminos | Radyo Natin Aparri | Radyo Natin Claveria | Radyo Natin Bayombong | Radyo Natin Banaue | Radyo Natin Maddela | Radyo Natin Iba5 | Radyo Natin San Jose, Nueva Ecija | Radyo Natin Guimba | Radyo Natin Laguna6 | Radyo Natin Padre Garcia | Radyo Natin Lemery | Radyo Natin Atimonan | Radyo Natin Calauag | Radyo Natin Catanauan | Radyo Natin Gumaca | Radyo Natin Infanta | Radyo Natin Lucban | Radyo Natin Sablayan | Radyo Natin San Jose, Occ. Mindoro | Radyo Natin Bongabong | Radyo Natin Naujan | Radyo Natin Pinamalayan | Radyo Natin Boac | Radyo Natin Sta. Cruz, Marinduque | Radyo Natin Odiongan | Radyo Natin Looc | Radyo Natin Brooke's Point, Palawan | Radyo Natin Coron | Radyo Natin Roxas, Oriental Mindoro | Radyo Natin Roxas, Palawan | Radyo Natin Paracale | Radyo Natin Sta. Elena | Radyo Natin Iriga | Radyo Natin Naga | Radyo Natin Buhi | Radyo Natin Pio Duran | Radyo Natin Tiwi | Radyo Natin Irosin | Radyo Natin Pilar | Radyo Natin Sorsogon | Radyo Natin Virac
Visayas
Radyo Natin Pinamungajan | Radyo Natin Patnongon| Radyo Natin San Jose, Antique | Radyo Natin Kalibo | Radyo Natin San Carlos | Radyo Natin Hinigaran | Radyo Natin Hinoba-an | Radyo Natin Sagay | Radyo Natin Kabankalan | Radyo Natin Bayawan | Radyo Natin Bais | Radyo Natin Guihulngan | Radyo Natin Daanbantayan | Radyo Natin Madridejos | Radyo Natin Jagna | Radyo Natin Naval | Radyo Natin Allen | Radyo Natin Laoang | Radyo Natin Borongan | Radyo Natin Guiuan | Radyo Natin Oras | Radyo Natin Calbayog | Radyo Natin Baybay | Radyo Natin Sogod
Mindanao
Radyo Natin Cagayan de Oro| Radyo Natin Margosatubig | Radyo Natin Buug | Radyo Natin Gingoog | Radyo Natin Oroquieta | Radyo Natin Ipil | Radyo Natin Molave | Radyo Natin Manolo Fortich | Radyo Natin Maramag | Radyo Natin Bayugan | Radyo Natin San Francisco | Radyo Natin Marawi | Radyo Natin Bislig | Radyo Natin Tagum | Radyo Natin Baganga | Radyo Natin Gov. Generoso | Radyo Natin Lupon | Radyo Natin Manay | Radyo Natin Mati | Radyo Natin Sto. Tomas | Radyo Natin Malita | Radyo Natin Kidapawan | Radyo Natin Kiamba | Radyo Natin Bongao | Radyo Natin Lebak | Radyo Natin Isulan | Radyo Natin Tacurong | Radyo Natin Nabunturan
Defunct
Radyo Natin Pagadian | Radyo Natin Roxas3
---
Hot FM 2
Luzon
Hot FM 92.5 Santiago | Hot FM 93.1 Laoag | Hot FM 97.3 Solsona, Ilocos Norte | Hot FM 98.7 Ballesteros, Cagayan | Hot FM 90.3 San Felipe, Zambales | Hot FM 91.7 Sta. Cruz, Zambales | Hot FM 91.9 Olongapo | Hot FM 91.9 Botolan | Hot FM 93.3 Masinloc | Hot FM 95.9 San Narciso | Hot FM 97.5 Candelaria | Hot FM 98.3 Castillejos | Hot FM 100.7 San Antonio | Hot FM 106.1 San Marcelino | Hot FM 98.3 Baliuag, Bulacan | Hot FM 92.7 Biñan | Hot FM 101.5 San Pablo | Hot FM 91.1 Cavite | Hot FM 103.5 Lopez8 | Hot FM 105.5 Tagkawayan, Quezon | Hot FM 98.9 Roxas, Oriental Mindoro | Hot FM 91.9 Calapan City | Hot FM 92.1 Labo, Camarines Norte | Hot FM 94.5 Sipocot, Camarines Sur | Hot FM 103.5 Calabanga, Camarines Sur | Hot FM 103.9 Goa, Camarines Sur | Hot FM 96.7 Polangui | Hot FM 96.7 Tabaco
Visayas
Hot FM 98.5 Kalibo | Hot FM 98.7 Calinog9 | Hot FM 106.9 Hamtic | Hot FM 96.1 Guimbal | Hot FM 92.9 Pototan | Hot FM 104.3 Cadiz | Hot FM 105.7 Hinigaran | Hot FM 88.3 Sagay | Hot FM 102.5 Sipalay | Hot FM 107.1 Ormoc | Hot FM 102.3 Ubay
Mindanao
Hot FM 100.5 Dipolog City | Hot FM 106.1 Sindangan, Zamboanga del Norte | Hot FM 89.7 Liloy, Zamboanga del Norte | Hot FM 105.3 Buug, Zamboanga Sibugay | Hot FM 95.3 Ipil, Zamboanga Sibugay | Hot FM 87.9 Malvar, Zamboanga Sibugay | Hot FM 93.5 Nasipit, Agusan del Norte | Hot FM 89.5 Mainit, Surigao del Norte | Hot FM 101.5 Bakaoan, North Cotabato | Hot FM 95.9 Cotabato City
Defunct
Hot FM 104.3 Pavia | Hot FM 103.5 Oton
---
The Beat FM
Luzon
The Beat FM Laoag | The Beat FM Tagaytay | The Beat FM Naga
Visayas
The Beat FM Iloilo
Mindanao
The Beat FM Ozamiz | The Beat FM Jolo
---
Other FM Stations
Visayas
Power 104.310 | Mix FM Oton
---
AM STATIONS

Aksyon Radyo1
Luzon
Aksyon Radyo Laoag | Aksyon Radyo La Union | Aksyon Radyo Dagupan
Visayas
Aksyon Radyo Iloilo | Aksyon Radyo Bacolod | DYRC Radyo Cebu/Radyo Calungsod Cebu / The Voice of Cebu11 / 2 | Aksyon Radyo Catarman | Aksyon Radyo Catbalogan | Aksyon Radyo Tacloban
Mindanao
Aksyon Radyo Davao
International
Aksyon Radyo U.S.
---
DZRH
Luzon
DZRH Manila12 | DZRH Laoag | DZRH Dagupan | DZRH Baguio | DZRH Tuguegarao | DZRH Santiago | DZRH Lucena8 | DZRH Palawan | DZRH Naga | DZRH Sorsogon
Visayas
DZRH Kalibo | DZRH Iloilo12 | DZRH Bacolod | DZRH Cebu12 | DZRH Tacloban
Mindanao
DZRH Zamboanga | DZRH Cagayan De Oro | DZRH Davao12 | DZRH General Santos12 | DZRH Bislig | DZRH Cotabato
---
1Operated by Pacific Broadcasting Systems
2Operated by Cebu Broadcasting Company
3Operated by Broadreach Broadcasting Corporation
4Operated by Philippine Broadcasting Corporation
5Operated by Zambales Mix FM Media Advertising System
6Operated by Laguna Broadcasting Services
7Operated by Radyo Natin Network
8Operated by WRD Media Channels Production
9Operated by TL Broadcasting Systems
10Operated by Pavia Broadcasting Service
11Operated by Bisalog Broadcasting
12Operated by RH Broadcasting, Inc.
13Operated by RVV Broadcast Ventures
14Operated by Iligan Media Broadcasting Inc.

Ad blocker interference detected!
Wikia is a free-to-use site that makes money from advertising. We have a modified experience for viewers using ad blockers

Wikia is not accessible if you've made further modifications. Remove the custom ad blocker rule(s) and the page will load as expected.