2001-2003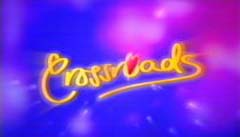 Crossroads is a British television soap opera set in a fictional motel near Birmingham,England. Originally broadcast on the commercial ITV network between 1964 and 1988, it was created by Hazel Adair and Peter Ling and it was produced by ATV until the end of 1981 and then by Central. A byword for cheap production, particularly in the 1970s and early 1980s, the series was revived in a glossier format in 2001 by Carlton Television, but was again axed in 2003.
The original theme tune was composed by Tony Hatch; a new version, which was first aired in 1987 when the series was relaunched as Crossroads, Kings Oak, was composed by Raf Ravenscroft and Max Early.
Ad blocker interference detected!
Wikia is a free-to-use site that makes money from advertising. We have a modified experience for viewers using ad blockers

Wikia is not accessible if you've made further modifications. Remove the custom ad blocker rule(s) and the page will load as expected.