This logo was used by the Chicago, Burlington & Quincy (or Burlington Route) up to the 1970 merger that created the Burlington Northern Railroad.  The four railrads involved were the Burlington Route, Great Northern, Nothern Pacific, and the Spokane, Portland and Seattle Railways.
1897–1970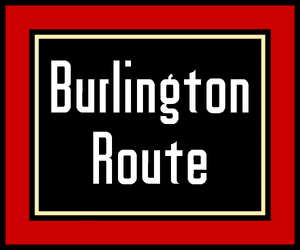 Ad blocker interference detected!
Wikia is a free-to-use site that makes money from advertising. We have a modified experience for viewers using ad blockers

Wikia is not accessible if you've made further modifications. Remove the custom ad blocker rule(s) and the page will load as expected.