1989–1998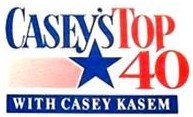 Casey's Top 40 was a CHR/Pop music countdown program that was hosted by Casey Kasem for the Westwood One radio network. Kasem joined Westwood One after eighteen years of hosting American Top 40 for Watermark/ABC Radio Networks.
Casey's Top 40 premiered on January 21, 1989 nationwide and took the place of American Top 40, which was taken over by Shadoe Stevens after Kasem's departure, in a significant number of U.S. media markets. The show ran until March 21, 1998.
Ad blocker interference detected!
Wikia is a free-to-use site that makes money from advertising. We have a modified experience for viewers using ad blockers

Wikia is not accessible if you've made further modifications. Remove the custom ad blocker rule(s) and the page will load as expected.