1995–1998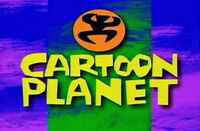 The first Cartoon Planet logo, used during the original TBS and Cartoon Network runs, before the show got cancelled in 1998.
2012–2014
The show was revamped on March 30, 2012 in honor of Cartoon Network's 20th Anniversary. This logo is used to line up with Cartoon Network's current rebrand by Brand New School. It was again cancelled in 2014.
Ad blocker interference detected!
Wikia is a free-to-use site that makes money from advertising. We have a modified experience for viewers using ad blockers

Wikia is not accessible if you've made further modifications. Remove the custom ad blocker rule(s) and the page will load as expected.