2006-2011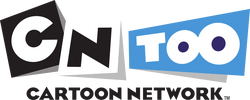 2011-2014
The CN Too logo was updated on May 15th, 2011 to follow up with the new Cartoon Network logo since May 2010. It change too to 2. The idents would consist of kids holding up pictures of the cartoons which come to life through stop motion.
Effective April 1st, 2014 the channel was closed and replaced with Cartoon Network +1.
Ad blocker interference detected!
Wikia is a free-to-use site that makes money from advertising. We have a modified experience for viewers using ad blockers

Wikia is not accessible if you've made further modifications. Remove the custom ad blocker rule(s) and the page will load as expected.