Canal+ Family
2011–2012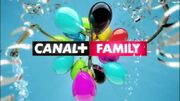 A new channel from Canal+ Nordic with programmes for children and their families was launched on June 1, 2011.
Canal+ Family used an adapted version of the ident previously used by Canal+ Comedy, a channel closed down a year earlier to make room for Canal+ Series. Apparently the balloons, sprinklers and streamers that signified Canal+' old comedy channel could also be used for its family channel.
C More Family
2012-present

Ad blocker interference detected!
Wikia is a free-to-use site that makes money from advertising. We have a modified experience for viewers using ad blockers

Wikia is not accessible if you've made further modifications. Remove the custom ad blocker rule(s) and the page will load as expected.