This article is about the television network. For its parent company, see CBS Corporation. For the radio network, see CBS Radio. For other uses, see CBS (disambiguation).
Contents

1941–1951
1947–1951
1951–present
1941–1951

1947–1951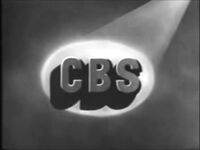 The CBS television network's initial logo, used between 1947 and 1951, consisted of an oval spotlight which shone on the block letters "C-B-S".
1951–present

The present-day Eye device was conceived by William Golden, based on a Pennsylvania Dutch hex sign as well as a Shaker drawing. The Eye device made its broadcast debut on October 20, 1951. The following season, as Golden prepared a new "ident", CBS President Frank Stanton insisted on keeping the Eye device and using it as much as possible.
The CBS eye has since become an American icon. While the symbol's settings have changed, the Eye device itself has not been redesigned in its entire history. As part of a new graphical identity created by Trollbäck + Company that was introduced by the television network in 2006, the eye was placed in a "trademark" position on show titles, days of the week and descriptive words, an approach highly respecting the value of the design. The logo is alternately known as the Eyemark, which was also the name of CBS's domestic and international syndication divisions in the mid-to-late 1990s before the King World acquisition and Viacom merger.
The eye logo has frequently been copied or borrowed by television networks around the world. Notable examples include the Austrian Broadcasting System (ORF), which formerly used a red version of the eye logo; Associated Television (ATV) in the United Kingdom; Frecuencia Latina in Peru; Fuji Television in Japan; Rede Bandeirantes and Rede Globo in Brazil; and Saeta TV Channel 10 in Uruguay.
External links