M-SAT
1994-2011
M-SAT started in 1994 as a regional television network for Varna, Bulgaria. In 2000, the network could be viewed from 1.500.000 households from cable and satellite television. In March 2010, M-SAT became a free-to-view channel.
Bulgaria On Air
2011-2015
M-SAT
rebranded as
Bulgaria ON AIR
on September 2011 as business channel, property of
Bulgaria On Air Media Group
. In February 2013 was announced, that they started a collaboration with
Bloomberg L.P.
2015-present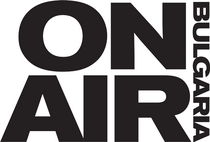 In September 2015,
Bulgaria on Air Media Group
and
Bloomberg L.P.
announced their long-term agreement to create a bulgarian version of the business channel
Bloomberg TV
, which must be on-air in October 2015. Because
Bulgaria on Air
was a business channel, the channel needed to change his type from business to poly channel. The change became on-air in September 21 with the new logo.