2016-2017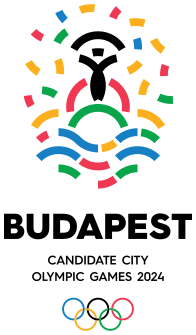 The emblem was unveiled on 14 April 2016, and was the final candidate city to present its official visual identity in time for the 130th IOC Session in September 2017. However on 22 February 2017, Budapest announced they will withdraw their bid due to the result of a referendum among citizens. Paris and Los Angeles are left as candidates for hosting privileges of the 2024 Summer Olympics.
Ad blocker interference detected!
Wikia is a free-to-use site that makes money from advertising. We have a modified experience for viewers using ad blockers

Wikia is not accessible if you've made further modifications. Remove the custom ad blocker rule(s) and the page will load as expected.