Brewster's was a family-orientated spin-off brand from Brewers Fayre, it was created in 1998. The logo below is the main logo that was used for the brand which did not appear to be very popular. In 2004, a new logo was launched however all pubs were integrated back into the Brewers Fayre brand in late 2005.
1998-2004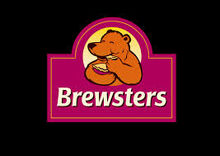 2004-2005
Ad blocker interference detected!
Wikia is a free-to-use site that makes money from advertising. We have a modified experience for viewers using ad blockers

Wikia is not accessible if you've made further modifications. Remove the custom ad blocker rule(s) and the page will load as expected.