2001-2012, 2015-present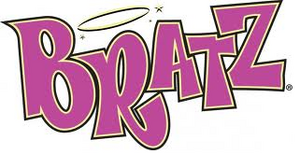 This logo has had many colour variations, such as glittery and gold, boldly silhouetted and with a girl underneath in 2008. This logo was re-used in 2015.
2007
This version was used for Bratz: The Movie, though was not used in merchandise (except some box variants for the Bratz movie dolls)

2013-2014
This logo was introduced in 2013. It is unknown if this will be the main logo and/or if the previous one will not be discontinued.