1883-present
This Boots logo has remained more or less the same since its inception in 1883, with only slight tweaking, mainly to remove superfluous decoration on both o's. This typeface used across stores has been in use since the 1970s/80s.
Boots took over the Alliance Pharmacy branding fascia in 2006 to form Alliance Boots.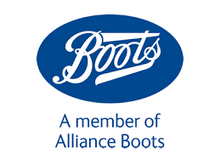 Ad blocker interference detected!
Wikia is a free-to-use site that makes money from advertising. We have a modified experience for viewers using ad blockers

Wikia is not accessible if you've made further modifications. Remove the custom ad blocker rule(s) and the page will load as expected.