Bloodworth-Thomason-Mozark Productions
Talk

0
Share
Bloodworth-Thomason-Mozark Productions (also known as Mozark Productions) is a television production company founded by the wife and husband team of Linda Joyce Bloodworth and Harry Thomason in 1983, in which they married the same year. The name come from their respective home states: "MO" for Missouri and "ARK" for Arkansas, but also gives an illusion of the overlapping Ozarks region.
Linda Bloodworth/L. J. Bloodworth Productions
1982–1983
Bloodworth/Thomason Mozark Productions
1986–1991
1990–present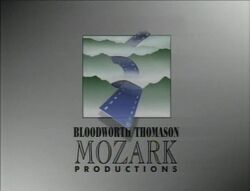 Ad blocker interference detected!
Wikia is a free-to-use site that makes money from advertising. We have a modified experience for viewers using ad blockers

Wikia is not accessible if you've made further modifications. Remove the custom ad blocker rule(s) and the page will load as expected.