Barnardos
19?? - Early 2000's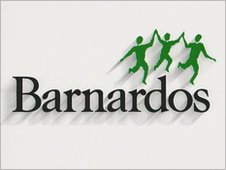 Early 2000's - 2009
Barnardo's
2008 - present
This logo was introduced during 2008, but it didn't come into effect until 2009, and was only seen on some shop signs on some older branches and newer branches. The name is now written with an apostrophe, and becoming "Barnardo's" instead of "Barnardos".
Ad blocker interference detected!
Wikia is a free-to-use site that makes money from advertising. We have a modified experience for viewers using ad blockers

Wikia is not accessible if you've made further modifications. Remove the custom ad blocker rule(s) and the page will load as expected.