1999-2001; 2005-present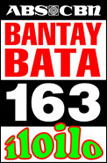 Bantay Bata opened its services in Iloilo in 1999. However due to lack of funds, Iloilo closed office in 2001. Bantay Bata continues to carry out its mission in enabling children in Iloilo to achieve their full potential when it reopened its office in January 2005 through the Php 5,000,000 donation of President Gloria Macapagal Arroyo plus additional donations from the provincial and city government of Iloilo. 
Bantay Bata Iloilo serves not only as front liner in child protection, but also on child abuse prevention by training and advocacy, community outreach, feeding programs, medical missions and other activities for children's welfare.
Ad blocker interference detected!
Wikia is a free-to-use site that makes money from advertising. We have a modified experience for viewers using ad blockers

Wikia is not accessible if you've made further modifications. Remove the custom ad blocker rule(s) and the page will load as expected.