August 2000-Present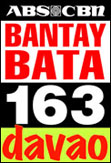 Bantay Bata 163 Davao was established in August 2000 through the assistance of Cooperacion Espanola and Dia Solidario of Union Fenosa and the Presidential Social Fund. This is the first and the only BB 163 center in Mindanao and outside of Manila. It is the only organization in Mindanao that offers an accessible hotline that caters to children in need of special protection, twelve (12) hours a day and five (5) days a week. It is also the only recognized non-government organization deputized to rescue abused children. 
Bantay Bata 163 Davao provides a holistic intervention for the children of Mindanao. It offers Child Protection Services, Residential Services and Advocacy program. This menu of intervention serves as both protective interventions of the rights of the child to live in a secured environment and preventive measures from the hostilities around him/her.
Ad blocker interference detected!
Wikia is a free-to-use site that makes money from advertising. We have a modified experience for viewers using ad blockers

Wikia is not accessible if you've made further modifications. Remove the custom ad blocker rule(s) and the page will load as expected.