January 17, 2005-Present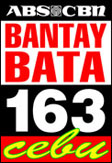 Bantay Bata Cebu was launched on January 17, 2005. It started its full operation on April of the same year by providing child protection services (rescue operation, medical assistance and home visitations, legal services), aftercare services (scholarship), feeding and community outreach programs (training and advocacy) to the Cebuano community especially to children and families in crisis. Bantay Bata Cebu also serves neighboring provinces like Negros Oriental, Bohol and Leyte.
Ad blocker interference detected!
Wikia is a free-to-use site that makes money from advertising. We have a modified experience for viewers using ad blockers

Wikia is not accessible if you've made further modifications. Remove the custom ad blocker rule(s) and the page will load as expected.