January 2006-Present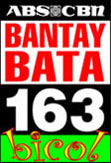 Bantay Bata 163 Bicol started its operation on January 2006 and was formally launched on March 19, 2006 in Naga City, Camarines Sur. With programs and services that focus on the welfare and protection of children specifically those victims of child abuse, Bantay Bata has given extensive medical assistance to sick and indigent children in the region.
On June 2007, Hotline 1-6-3 became accessible to the Province of Albay. This prompted the opening of a Bantay Bata Desk in Legaspi City.
After a series of calamities hit the Bicol region, malnutrition was a major problem among children. Together with the Local Government Units, various donors and other partner NGO's, Bantay Bata Bicol launched the Bantay Kalusugan Project. This program aims to combat malnutrition and to improve the academic performance of the children.
Ad blocker interference detected!
Wikia is a free-to-use site that makes money from advertising. We have a modified experience for viewers using ad blockers

Wikia is not accessible if you've made further modifications. Remove the custom ad blocker rule(s) and the page will load as expected.