Bancaja was Spanish financial institution founded in 1878 as "Caja de Ahorros y Monte de Piedad de Valencia". Bancaja, as Caja Madrid, stopped working as a bank to join in Bankia, in 2011, but still continues to function as a social work.
1992-2005
2005-2011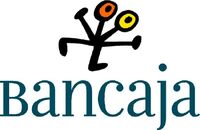 Compromiso Social Bancaja
2011-
When Bancaja entered in Bankia, as I said, no longer a bank to be a social work. Bancaja do it with the name "Compromiso Social Bancaja".