Contents

1973-1977
1977-1978
1978-1980
1980-1984
1984-1986
The Banahaw Broadcasting Corporation (often shortened to BBC) was a Philippine television network that began operations in November 4, 1973 and ceased transmission on March 20, 1986.
Banahaw Broadcasting Corporation (first era)
1973–77
On September 23, 1972, when ABS-CBN was forcibly shut down as a result of martial law, Banahaw Broadcasting Corporation was launched on November 4, 1973. Its first logo was a red-cyan-green foreground with its circular arcs below and initials 'bbc' in compressed ITC Avant Garde Bold font above and number '2' logo in Bauhaus Regular font below inside its shape logo.
1977–78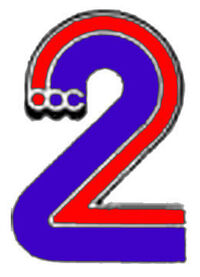 In 1977, BBC-2 overhauls its logo for the first time in four years. The initials 'bbc,' this time, were compressed in Bauhaus Regular font connected on upper left arc of number '2' heavy-bold logo.
1978–80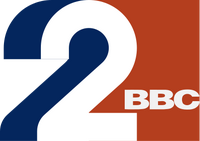 The last BBC-2 logo before the 1980 rebranding as "City 2 Television" appears in a quadrilateral shape containing its blue & red sides and number '2' logo in Franklin Gothic Heavy font with its low-size high distant dark shadow in zero-degree angle in the middle shape and the 'BBC' initials in an extended Franklin Gothic Heavy font in the right shape.
City2 Television
1980–84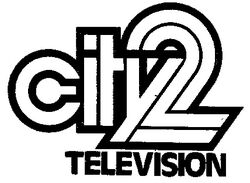 In 1980, BBC-2 reformatted into City 2 Television as part of its plan to make the network more competitive in terms of programming. The City 2 logo shows the 'city2' text in low compressed ITC Avant Garde Bold font with its same straight strokes outside.
Banahaw Broadcasting Corporation (second era)
1984–86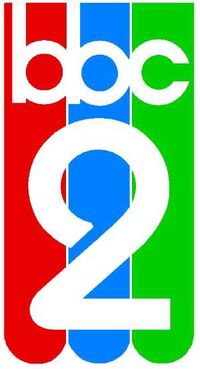 In 1984, City 2 Television was reverted back to BBC-2 with a reuse of their 1973 logo in its last years of broadcast. BBC-2 ended operations on March 20, 1986 at the height of the People Power Revolution along with RPN and IBC (temporarily), after reformist soldiers disabled the transmitter that was broadcasting Marcos' inauguration from Malacañang Palace. Upon Corazón C. Aquino's subsequent accession to the presidency, BBC, RPN and IBC (collectively known as "Broadcast City") were sequestered and placed under the management of a Board of Administrators tasked to operate and manage its business and affairs subject to the control and supervision of Presidential Commission on Good Government. DWWX-TV was re-opened as ABS-CBN on September 14, 1986, as well the Cebu and Bacolod affiliate stations.
Other