2007–2008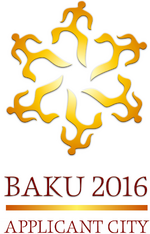 Baku, the capital of Azerbadjan, launched its bid to host the 2016 Olympics in 2007. The applicant logo was unveiled in December 2007. It is based on petroglyphs from the Gobustan Rock Art Cultural Landscape, a UNESCO World Heritage site.[1][2]
The bid was considered a long shot from the start, and was eliminated when the IOC presented the four bids that had become candidate cities in June 2008.
Ad blocker interference detected!
Wikia is a free-to-use site that makes money from advertising. We have a modified experience for viewers using ad blockers

Wikia is not accessible if you've made further modifications. Remove the custom ad blocker rule(s) and the page will load as expected.