1995-2006

This community radio service first broadcast on December 18th 1995 via the local cable system. It became one of the Radio Authority's 'Access Radio' services (the trial that brought about community radio to the UK) in 2002. It then became a community radio service on January 1st 2006.
2006-present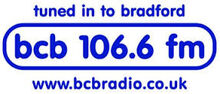 Ad blocker interference detected!
Wikia is a free-to-use site that makes money from advertising. We have a modified experience for viewers using ad blockers

Wikia is not accessible if you've made further modifications. Remove the custom ad blocker rule(s) and the page will load as expected.