2001–2016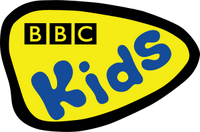 BBC Kids first launched on November 5, 2001. This first logo was designed by Lambie-Nairn just like CBBC and CBeebies and they later used bumpers and logos similar to BBC Kids starting February 11, 2002.
2016-2018
On May 1, 2016, BBC Kids slightly modified their logo to coincide with its rebranding and fifteenth anniversary.
It is confirmed by the BBC that the channel will close on December 31, 2018.