This article is about the Australian public broadcaster that was established in July 1932. For the Television channel, see ABC (Australian TV channel)
Contents

1965–1975
1975–present
2001–present
Australian Broadcasting Commission
1932-1965
This article or section lacks a former logo at the moment. You can help Logopedia by uploading it here.
The ABC was established in 1932, but didn't start using the first Lissajous curve until 1965.
1965–1975
The ABC lissajous curve was created by Bill Kennard, then introduced itself in 1965.
Australian Broadcasting Corporation
1975-present
This thick version of the logo was first created in September 21, 1974, but however, it didn't go on-screen until March 1, 1975. The logo was also changed to an "over and under" design, but looks more bold. Starting in 1988, the idents were updated. The original set of idents were titled "Natural Textures of Australia".
2001–present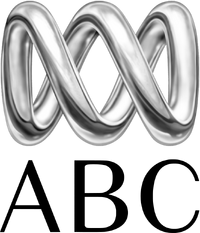 To coincide with the future in digital television (Thanks guys here at the ABC), In May 3, 2001, the well known, current, CGI logo was first commenced.
Other
Australian Broadcasting Corporation
Television
---
---
---
---
---
---
---