Ad blocker interference detected!
Wikia is a free-to-use site that makes money from advertising. We have a modified experience for viewers using ad blockers

Wikia is not accessible if you've made further modifications. Remove the custom ad blocker rule(s) and the page will load as expected.
Not to be confused with ASDA Smart Price.
1981-1982
1982-1993
ASDA Price is a long term advertising campaign which began in the 1980s. It was orginally part of song lyric, 'whenever you go, you will be sure you know, it's ASDA Price'. The song was used during the 'All Together Better' campaign from 1982. In 1985, when the new ASDA logo was introduced, a new campaign began called 'Pocket the Difference'.
1993-1995
The second ASDA Price logo was used to promote the new ASDA Price Guarantee. If ones shopping is not 10% cheaper than other supermarkets, ASDA would refund the diference. This 'guarantee' would later make a comeback in 2010.
1995-2002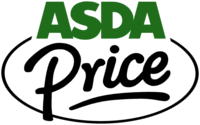 After the previous campaign ended the 'ASDA Price' phrase was reused in the late 1990s for a new advertising campaign which focused on lowering prices which spawned a new slogan for ASDA 'Always Low Prices'. The logo was based upon the previous. In the late 1990s the ASDA Price campaign focused on keeping the food prices down, this spawned another slogan 'Permanantly Low Prices Forever'.
From 1996 until around 1999, this version of the ASDA Price logo was prominently used on advertising, notably etched in large 'stones' placed in stores.
2002-2010
The ASDA Price logo was revised in 2003.
In the early 2000s the ASDA Price logo and the ASDA Jingle were slowly being phased out until they were no longer used in advertising by 2004, it was still used on indoor signage and on ASDA FM respectively. From 2004 Television advertising focused mainly on singing children but they were also phased out in the mid 2000s. The next advertising campaign began using a parody of the Dads Army opening titles, using arrows and and instrumental version of the song 'Who Do You Think You Are Kidding Mr Hitler'.
In 2008 ASDA began using the slogan 'Saving You Money Everyday' using some elements of the previous campaign such as green bands, the music was a remixed version of the famous ASDA Jingle.
2010-2015
In 2010 the ASDA Price logo was finally brought back to the Television screen, this time slightly different in that it now represents the 'ASDA Price Guarantee' which 'guarantees' that shopping at ASDA will be cheaper than other supermarkets. If it is 10% cheaper to shop elsewhere then one will get the money difference back, if it is less percent then one can get a voucher. The guarantee was first advertised in 1994 but was later discontinued. In late 2011 the guarantee was extended, if one checks the prices on the ASDA website one will receive a £5 off voucher if the total shopping value is over £40.
See also