1961-1973
Arvid Nordquist Classic is a Swedish brand of coffee created in 1961.
1973-2002
The first major design change happended in 1973. After that, Classic would use a logo made up of an brown oval with the Swedish coat of arms and the name of the brand in gold. The logo was put on a stripy background.
Only minor changes happened between 1973-2002, such as slight font changes, the adding of ribbon behind the logo a switching from coffee cans to vacuum packages.
2002-2006
In March 2002, Classic was given a radical makeover, having recently switched ad agencies from Garbergs to Forsman & Bodenfors. The new graphic design was developed by Happy F&B and included letting an image of Arvid Nordquist himself take a prominent position. They kept the golden colours from the previous packages, but abandoned the dark brown in favour of pastelle colours and included more white.
2006-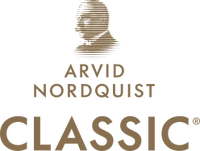 After a few years with a more populist image, Classic started shifting back to communicate the products quality and exclusivity. In 2006, the packages were changed again, removing the pastelle colours and bringing back some dark yet warm tones.