2006-2009
The Arizona Sundogs began play in 2006, in the Central Hockey League.
2009-2014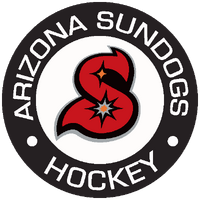 On August 21, 2014, the Sundogs announced that they would "suspend operations immediately".[1] The seven remaining active CHL clubs en masse joined the ECHL on October 7, 2014.[2] The next day, the Sundogs announced on Facebook that they were unable to apply for membership of the ECHL at that time but are in talks with them regarding a future move.[3]
Ad blocker interference detected!
Wikia is a free-to-use site that makes money from advertising. We have a modified experience for viewers using ad blockers

Wikia is not accessible if you've made further modifications. Remove the custom ad blocker rule(s) and the page will load as expected.