This page only shows print and stationary logos.
For other related logos and images, see Apple/Other
Contents

1976–1977
1977–1998
1998–present
1976–1977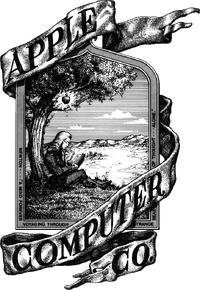 The very first Apple Computer logo, drawn by Ronald Wayne, depicts Isaac Newton under an apple tree. The border reads "Newton...A Mind Forever Voyaging Through Strange Seas of Thought...Alone."
1977–1998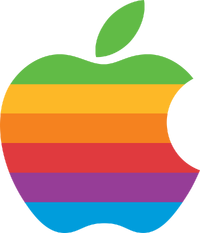 Created by Rob Janoff in 1977, the Apple logo with the rainbow scheme was used from April of that year until August 26, 1999, but remained in use as an Apple Menu icon until the release of Mac OS X in 2001. Steve Jobs has asserted the apple logo was inspired by the story of his childhood.
The logo references Alan Turing's apple he ate before his death. Since this logo's introduction, the design itself has remained unchanged.
1998–present

The current logo was introduced in 1998 along with the iMac.
External links