Contents

1976
1976–1998
1976–present
1976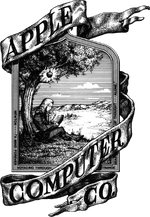 This logo was designed by Ronald Wayne. The border reads "Newton…A Mind Forever Voyaging Through Strange Seas of Thought…Alone." However, this logo was short lived.
1976-present
1976–1998
Apple's now-iconic "rainbow" logo was designed by Rob Janoff. Although it's no longer being used as of 1998, it appeared as an Apple Menu icon in System 7, Mac OS 8, and Mac OS 9. It even made a few reappearances in the 2014 Apple ad, "Stickers."
1998–present

Thanks to the new flat identity that Apple has assumed, the classic logo became more minimalist after the announcement of iOS 7. Since its introduction, the design itself has remained unchanged, but the rainbow variant lasted until 1998.
Trivia
An urban legend is that the bite mark in the apple represented a computer byte, however Rob Janoff who created the logo answered:
| | | |
| --- | --- | --- |
| " | They are really interesting, but I'm afraid it didn't have a thing to do with it. From a designer's point of view and you probably experienced this, one of the big phenomena is having the experience of designing a logo for whatever reasons you design it, and years later you find out supposedly why you did certain things. And, they are all BS. It's a wonderful urban legend. Somebody starts it and then people go "oh yeah, that must be it". | " |
See also
External links