Contents

1996–2006
2006–2008
2008–present
1996–2008
1996–2006
2006–2008
Changes included are white text and a colored bottom, as well as the geography of the "planet".
2008–present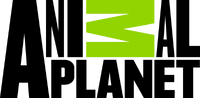 A new logo for Animal Planet was launched on February 3, 2008 in the United States. The logo was created by Dunning Eley Jones.[1] It received mostly negative reception from the public. It was one of the worst-received logos of 2008, according to Brand New.
Ad blocker interference detected!
Wikia is a free-to-use site that makes money from advertising. We have a modified experience for viewers using ad blockers

Wikia is not accessible if you've made further modifications. Remove the custom ad blocker rule(s) and the page will load as expected.