Angry Birds Under Pigstruction
2015 (Canada only)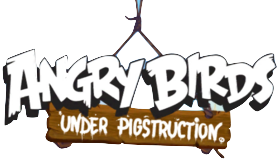 Prior to the worldwide launch of the game, this game soft-launched in Canada on March 2015 as Angry Birds Under Pigstruction, but only for a short time.
Angry Birds 2
2015–present

When the game was announced to launch worldwide on July 30th, Angry Birds Under Pigstruction had been renamed as Angry Birds 2.
App icons
Loading screens
Ad blocker interference detected!
Wikia is a free-to-use site that makes money from advertising. We have a modified experience for viewers using ad blockers

Wikia is not accessible if you've made further modifications. Remove the custom ad blocker rule(s) and the page will load as expected.