1984-2015
2015-present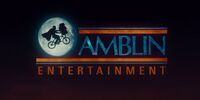 The company changed its logo for the first time in 31 years, this time redoing the logo with CGI animation. This logo debuted on Jurassic World (2015) and will be used on future Amblin releases.
Print logo variations
Ad blocker interference detected!
Wikia is a free-to-use site that makes money from advertising. We have a modified experience for viewers using ad blockers

Wikia is not accessible if you've made further modifications. Remove the custom ad blocker rule(s) and the page will load as expected.