2009 - 2011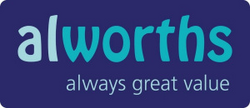 Alworths was set up in November 2009, setting up in former Woolworths stores. Alworths was placed into administration in March 2011 and the entire buisness, including 15 branches were sold to Poundstretcher in May 2011. The two further Alworths stores became a Poundland and a Sainsbury's Local respectively.
Ad blocker interference detected!
Wikia is a free-to-use site that makes money from advertising. We have a modified experience for viewers using ad blockers

Wikia is not accessible if you've made further modifications. Remove the custom ad blocker rule(s) and the page will load as expected.