Aksyon Bisaya (formerly Balitang Balita Central Visayas; 1993-1998) was a regional newscast of TV5 in Cebu City. Central Visayas as well as Dumaguete and Negros Oriental. Bohol, and Siquijor; as well as the Cebuano-speaking areas of Eastern Visayas (including Southern Leyte and Leyte), through the station's news teams and stringers across the two regions. It airs every Monday to Friday at 3:45 pm over TV5 Cebu Channel-21 and on relay stations in TV5 Channel 2 Dumaguete, TV5 Channel 7 Tagbilaran, TV5 Channel 4 Tacloban, TV5 Channel 9 Catbalogan, TV5 Channel 11 Catarman and TV5 Channel 5 Borongan. It is anchored by Glenn Anthony Soco and Georgia Herrera.
The newscast is simulcast on radio through Radyo5 101.9 News FM. All of its editions are aired worldwide via AksyonTV International.
Balitang Balita Central Visayas
1993-1995
1995-1998
Aksyon Bisaya
2011–2013
2013–2016
2013–2014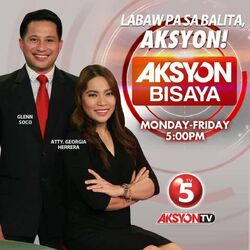 2014–2016
On September 8, 2016 the news program of Aksyon Bisaya and Aksyon Dabaw are officially declined for cost-cutting measures by the network to sustain its day-by-day operations.