Contents

2001-2007
2011-2013
2013-2017
2018-present

Aksyon TV (English: Action TV formerly MTV Philippines) is a commercial broadcast television network in the Philippines. Its owner and operated by TV5 Network Inc. with some of programs produced by News5, ESPN 5 in Metro Manila co-owned by Nation Broadcasting Corporation (both subsidiary of PLDT media company MediaQuest Holdings). AksyonTV is being broadcast terresrially through DWNB-TV, (UHF Channel 41) Metro Manila and among all-relay stations. Occupies the frequency previously used by MTV Philippines, a subsidiary of MTV Networks Asia Pacific until 2006. It started broadcasting on February 21, 2011,
Its main broadcast facilities is located at TV5 Media Center, Reliance cor. Sheridan St., Brgy. Buayang Bato, Mandaluyong City; while the network alternate studios and transmitter are located at TV5 Complex, 762 Quirino Highway, San Bertolome, Novaliches, Quezon City.
ABC 47
1999-2003
MTV Philippines
2001-2007
Originally, local UHF channel 41 was intended to broadcast local programming under the supervision of Nation Broadcasting Corporation.
Sometime in 2000, MTV Networks Asia Pacific, operator of MTV (Music Television) brand in Asia wanted to transmit its music channel on terrestrial television in the Philippines. Eventually, MTV Networks Asia Pacific entered into an agreement with Nation Broadcasting Corporation to transmit its localize music channel via its UHF channel and started broadcasting MTV Philippines on January 1, 2001 until the partnership ended on February 15, 2007.
AksyonTV
2011-2017
2011-2013
On March 2, 2010 MediaQuest Holdings, Inc., a PLDT subsidiary, Philippines largest telecommunication company, announced the acquisition of ABC Development Corporation, broadcaster of TV5 from the Cojuangco family and Malaysia-based broadcaster Media Prima Berhad.
On October 1, 2010, through its flagship station, it took over the management of Nation Broadcasting Corporation and its radio and television businesses, particularly 92.3 News FM and UHF channel 41. Consequently, UHF channel 41 went on air and began its initial test broadcast of its radio station 92.3 News FM from 12:00 noon to 8:00 p.m. (Philippine Standard Time, UTC+8).
In December 2010, ABC Development Corporation announced plans to launch its own news and sport-related channel. On February 21, 2011, AksyonTV started its commercial broadcast.
2013-2017
2018-present
Owner
---
---
---
---
---
---
---
---
---
---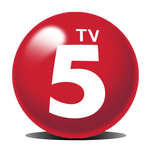 Analog and Digital TV stations in Metro/Mega Manila, Philippines
Analog
VHF Stations
DWWX-TV 2 (ABS-CBN) | DWGT-TV 4 (PTV) | DWET-TV 5 (TV5) | DZBB-TV 7 (GMA) | DZKB-TV 9 (RPN/CNN Philippines) | DWDB-TV 11 (GMA News TV) | DZTV-TV 13 (IBC)
---
UHF stations
DWCP-TV 21 (SBN/ETC) | DWAC-TV 23 (S+A) | DZEC-TV 25 (Net 25) | DZRJ-TV 29 (RJTV/2nd Avenue) | DWKC-TV 31 (BEAM) | DWAO-TV 37 (UNTV) | DWBP-TV 39 (SMNI) | DWNB-TV 41 (AksyonTV) | DWVN-TV 45 (3ABN/Hope Channel Philippines) | DZCE-TV 48 (INC TV)
---
Digital television stations
19 (CNN Philippines) | 22 (ETC, NBA Premium, Solar Sports, Jack TV, MTVph, Zoo Moo, Zee Sine) | 26 (IBC, Chinatown TV) | 27 (GMA, GMA News TV) | 30 (2nd Avenue, Basketball TV, MTV Classic, Boo, Zee Living, Gong Viral) | 32 (Shop TV, O Shopping, TV Shop Philippines, Pilipinas HD, Island Living Channel, Life TV, EGG HD, Inquirer 990 Television) | 33 (Light Network) | 35 (TBD) | 38 (UNTV, ADDTV) | 40 (SMNI) | 42 (PTV, Salaam TV) | 43 (ABS-CBN, S+A, Cine Mo!, Yey!, Knowledge Channel, DZMM TeleRadyo, KBO) | 44 (Hope Channel Philippines, 3ABN, Hope Channel International, GNN) | 49 (Net 25,INC TV) | 51 (TV5, AksyonTV)
---
Inactive stations
DWDB-TV 27 (Citynet Television) | DZOZ-TV 33 (Light Network) | DWXI-TV 35 (DBS) | DWBM-TV 43 (MBN) | DWDZ-TV 47 (TV5) | DZCE-TV 49 (INC TV) | DWBC-TV 68 (Intervision 68)
---
Defunct stations
DZXL-TV 4/9 (ABS-CBN) | DZRH-TV 11 (MBC) | DZRU-TV 41 (MTV Philippines)