For other articles related to AMC or American Movie Classics, see AMC (disambiguation).
This article is a candidate for move.

This article should be moved to AMC for the following reason: There has been some controversy about disambiguating AMC, but since this is the only company with the full name "AMC", it should go back to the way it was and I moved the disambiguation page to "AMC (disambiguation)". Remember to check what links here and the page history before moving. If you disagree with move, please explain why on the candidates for move talk page.
American Movie Classics
1984–1989

1989–1995
From the late 1980s to 1995, AMC used a logo either one filled diamond (for use in the acronym-only version of the logo) or two filled diamonds stacked over one another (used in the logo with the channel's full name at the time "American Movie Classics").
1995–1998
1998–2002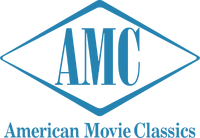 AMC
2002–2013
AMC rebranded itself in October 2002, with a new on-air look by Trollbäck & Company. The channel got a new logo and a new tagline, "TV for Movie People". The full name of the channel was essentially dropped in the process. In 2007, the 2002 tagline was dropped.
2013–2016
A SVG version of this logo is recommended but not required. You can help Logopedia by uploading it here.
On March 31, 2013, the logo was modified with the letters (slightly redrawn) now inside a filled rectangle. The channel also introduced a new tagline, "Something more." AMC was also brought to Latin America in 2014 and the UK and Ireland in 2015, initially featuring the above logo.
AMC Rolls Out 'Something More'
2016–present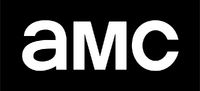 On April 9, 2016, AMC changed the background of its logo by making it a black and white logo.