ABS-CBN Sports and Action (stylized as ABS-CBN Sports+Action or simply S+A or S and A) is a Filipino commercial broadcast television network based in Quezon City. It is owned and operated by ABS-CBN Corporation with some of its programs produced and licensed by ABS-CBN Sports. In Metro Manila, Sports + Action is being broadcast terrestrially and thru digital terrestrial television through DWAC-TV (UHF channel 23) among all-relay stations, the frequency once used by the formerly national television network Studio 23 until its closure on January 16, 2014. It began its operations on January 18, 2014. This station studios and transmtter are located at ABS-CBN Broadcasting Center, Mother Ignacia Street, corner Sgt. Esguerra Avenue, Diliman, Quezon City.
Sports + Action's programming is composed primarily of sports coverage such as UAAP, NCAA, Top Rank boxing, ONE Championship, BVR, V-League, Palarong Pambansa, URCC, FIFA, AFC, and Azkals football matches, and ABL. The program line up of Sports + Action also includes action movies targeted to male audiences as well as other sports-related programs.
2014–2016

2016–present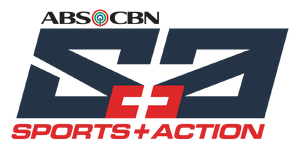 Starting August 29, 2016, alongside the launch of the new logo and station identification, ABS-CBN Sports and Action is now known on-air as S+A (S and A).
Other
Analog and Digital TV stations in Metro/Mega Manila, Philippines
Analog
VHF Stations
DWWX-TV 2 (ABS-CBN) | DWGT-TV 4 (PTV) | DWET-TV 5 (TV5) | DZBB-TV 7 (GMA) | DZKB-TV 9 (RPN/CNN Philippines) | DWDB-TV 11 (GMA News TV) | DZTV-TV 13 (IBC)
---
UHF stations
DWCP-TV 21 (SBN/ETC) | DWAC-TV 23 (S+A) | DZEC-TV 25 (Net 25) | DZRJ-TV 29 (RJTV/2nd Avenue) | DWKC-TV 31 (BEAM) | DWAO-TV 37 (UNTV) | DWBP-TV 39 (SMNI) | DWNB-TV 41 (AksyonTV) | DWVN-TV 45 (3ABN/Hope Channel Philippines) | DZCE-TV 48 (INC TV)
---
Digital television stations
19 (CNN Philippines) | 22 (Shop TV, ETC) | 26 (IBC) | 27 (GMA, GMA News TV) | 30 (2nd Avenue) | 32 (Shop TV, O Shopping, TV Shop Philippines, Shop Japan Philippines, Pilipinas HD, TeleVShop, Island Living Channel, Inquirer 990 Television, PinoyHowToTV, EGG HD) | 33 (Light Network) | 35 (TBD) | 38 (UNTV, ADDTV) | 40 (SMNI) | 42 (PTV, Salaam TV) | 43 (ABS-CBN, S+A, Cine Mo!, Yey!, Knowledge Channel, DZMM TeleRadyo, KBO) | 44 (Hope Channel Philippines, 3ABN, Hope Channel International, GNN) | 49 (Net 25,INC TV) | 51 (TV5, AksyonTV)
---
Inactive stations
DWDB-TV 27 (Citynet Television) | DZOZ-TV 33 (Light Network) | DWXI-TV 35 (DBS) | DWBM-TV 43 (MBN) | DWDZ-TV 47 (TV5) | DZCE-TV 49 (INC TV) | DWBC-TV 68 (Intervision 68)
---
Defunct stations
DZXL-TV 4/9 (ABS-CBN) | DZRH-TV 11 (MBC) | DZRU-TV 41 (MTV Philippines)