Standard Logos
ABS-CBN (First era)
1967–72
ABS-CBN (Star Network/Sarimanok Network)
1986–99
ABS-CBN
2000

–

present
2000–2003
ABS-CBN (Kapamilya Network)
2003–present
2003–2014
2014–present
Wordmarks (used in microphone flags)
ABS-CBN Square Frame
Network IDs
1953–67
1967–72
1986–99
Trivia: The 1994-1997 idents were designed by Star Animation.
2000

–

present
2000–14
2014–present
TV Messages/Greetings
1986–99
2000–present
2000–14
(*) NOTE : This TV message from 2002 has been still in use from Independence Day of 2002 until 2017 during sign-on.

2014–present
Station Message (Sign On / Sign Off) Background
Special Logos
Anniversary Logos
Summer Idents
Christmas Idents
New Year Season
Valentine's Season
Election's Season
Rainy Season
Holy Week Season
Program Bumpers
Regular
1986–1999
2000–2014
2014–present
Summer
Christmas
Break Bumpers
1987–2005
2005–2014
2014–present
NOTE: Starting on late 2014, this can also be played after the title card that pauses its programs aside from playing after the commercial like the previous two bumpers.
On Screen Bugs
1986–99
2000–present
2000

–

2014
2014

–

present
HD logos/variants
Main Logo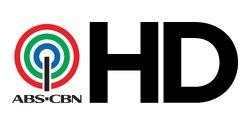 Logo bugs
Test card
Test Card
Videos
RGB Logo