Contents

2010 (pre-launch)
2010–2017
2017-present
ABC News 24
2010 (pre-launch)
2010–2017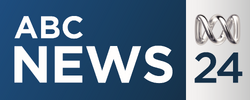 ABC News
2017-present

The Australian Broadcasting Corporation announced that ABC News 24 and ABC NewsRadio would converge into a single ABC News brand on April 10, 2017. This is accompanied by the closure of now-redundant social media accounts, a new logo and a revitalised graphics package for the channel and news program.
Ad blocker interference detected!
Wikia is a free-to-use site that makes money from advertising. We have a modified experience for viewers using ad blockers

Wikia is not accessible if you've made further modifications. Remove the custom ad blocker rule(s) and the page will load as expected.