ABC TV (HD simulcast)
2002–2008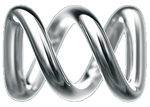 The channel was originally launched as a nationwide high definition simulcast of ABC Sydney on 1 January 2002. The channel had no unique branding, instead re-using the branding of ABC TV.
ABC HD
2008–2010

The channel was relaunched as ABC HD with its own branding on 1 January 2008. The channel was shut down in July 2010, with its high definition bandwidth replaced by ABC News 24.
2016–present
This article or section does not include the upcoming logo at the moment. You can help Logopedia by uploading it here.
ABC HD is due to be relaunched in late 2016. As a result, ABC News 24 will be reduced to a standard definition broadcast.