Contents

1956–1963
1963–1975
1975–2000
2001–2008
2008–2011
2011–2014
2014–present
ABC TV (first era)
1956–1963
1963–1975
In 1963, the ABC TV diorama was changed to an ABC squiggle. Starting in 1996 and 1999, for television idents and signposts, this logo was modified into a variant of the logo.
1975–2000

In March 1, 1975, with the introduction of color TV, the squiggle logo was modified with a thicker line to feature color in the logo. The previous logo was resumed in July 2014.
2001–2008
With the introduction of digital TV in 2001, ABC TV modified its 1975 logo, this time giving the logo a 3D metal design, and losing the "over and under" design from the previous logo.
With the 70th anniversary celebration of the ABC in July 2002, ABC TV once again modified the 1975 logo by reverting to the "over and under" design, but keeping the 3D silver color.
The channel's idents featured elements - fire, leaf and ice, and the slogan was updated to Everyone's ABC until 2005. The idents also featured the silver ring that morphs into the ABC logo.
ABC1
2008–2011
In February 2008, ABC TV was renamed to ABC1 to keep in line with the other digital channel ABC2.
2011–2014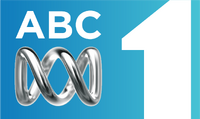 In February 2011, ABC1 modified the 2008 logo, as well as a new slogan, Think Entertainment.
The aim of the rebrand was to communicate that ABC1 isn't only a source of news and current affairs, but also a channel for entertainment. For Example: Drama, Lifestyle, Comedy and Light Entertainment.
ABC TV (second era)
2014–present
#ourABC
. The logo came in a range of colours and also features gradients at the logo's overlap points, simulating a drop shadow.
Other
For other related logos and images see: ABC (Australian TV channel)/Other , Australian Broadcasting Corporation/Logo Variations