Contents

2005–2008
2008–2011
2011–present
2005–2008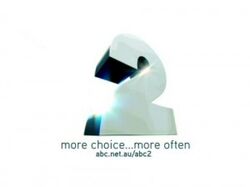 2008–2011

In February 2008, ABC's channel were rebranded to a common theme with ABC1 adopting blue and ABC2 adopting yellow.
2011–present
This logo was designed by Phil Robson and unveiled at the same time as the main channel's redesign in 2011.
In 2014, following the main channel's rebrand to the 1975 Lissajous curve logo, new variants of the ABC2 logo were introduced to fit with the classic Lissajous curve. However, the 2011 logo remains in use on-screen with it and the 2014 variant used interchangably.