Contents

2005–2008
2008–2011
2011–present
2005–2008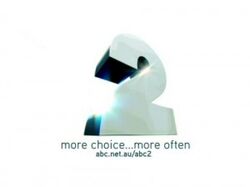 ABC2 was launched on March 7, 2005.
2008–2011

ABC2 changed its logo for the very first time in February 2008, to keep in line with the other hand ABC1.
2011–present
In April 2011, ABC2 modified its 2008 logo and changed its color to green. It looks the same as ABC1's redesign. The slogan used with this redesign was "Always Brighter".
However in 2014, This variation came at the same time as the main channel's change back to the flat ABC worm. Both versions with or without the worm are used. Alternatively, this logo was no longer used in 2015.