TCF Television Productions, Inc.
1955–1959
20th Century Fox Television
1958–1960
1960–1966
This television variant of the theatrical 20th Century Fox logo shows the word "TELEVISION" placed in front of the word "CENTURY" as it zooms into view.
1965–1984
1965–1976
Same as before, but in color.
1976–1984
1981–1993
1992–present
See 20th Television
1995–2009
2000–2007
2007–2013
This logo is more enhanced and has a CGI shine over it. It is shown in 4:3 format as well as widescreen for high definition broadcast.
2013–present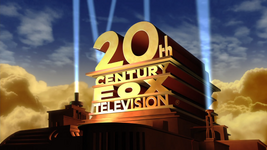 With the split of News Corp, the byline was removed.
In-credit logos
1979–1983
1983–1989
Videos